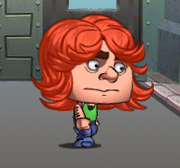 Leader is a Survivor type in No Zombies Allowed.
Leaders are represented by the color blue. They take charge and always have a morale raising catch phrase to give. Leaders are given roles that help to bring the past back and aid the community.
Hobbies
Devising ways to increase efficiency in the town
Organizing team bonding excercises to encourage the survivors to rely on each other
Getting onto the Warriors for repeatedly dropping the Dreamers in the exercises
Play songs from the Golden Years on records the Loners sold them.
Quotes:
"Walk tall and carry a boom-stick!"
"Aim for the yellows of their eyes!"
"Read my lips: No New Zombies!"
"We must protect our Grindhouse."
"Democracy doesn't require brains!"
"No free samples in this town!"
"They can't eat our freedom!"